Company: Farthofer Distillery

Who am I: Producer
A clear Thing … 100 % Organic
Passionate and with a lot of dedication we, Doris and Josef Farthofer, run our organic distillery in Öhling near Linz. Already in the fifth generation Josef Farthofer distills high-quality fruit schnapps and fires. It is important to us to deal responsibly with nature's resources. It is possible to gain a market advantage in smaller companies through holistic action, to work meaningfully and to contribute to sustainable development among employees, suppliers and in one's own family. In our company, not only the raw materials are organic, but also everywhere else we use recycled or sustainable materials. We invite you to take your time.
Established
1867
Focus
From Field to Bottle
OWN CULTIVATION/OWN FARM
MALT HOUSE
GENTLE DISTILLED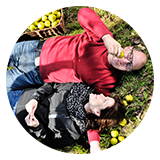 ALL ORGANIC SINCE 2003
Our Nature Preserve
We did not arrive at our line of organic products out of marketing considerations. Rather, it was the logical continuation of Josef's early interests. Because, already during his student years he had become involved with conservation and with nature, and has for many years been a member of the World Wide Fund for Nature, as well as belonging to the Austrian Conservation Union; even his graduate thesis was concerned with the subject of sustainability. Working together with the World Wide Fund and the state of Oberösterreich, Farthofer initiated a conservation project on his property in the lower Mühlviertel region in 1997.

There, various meadow-breeding fowl such as the corncrake, the whinchat and the red-backed shrike have settled in. The condition of the colonies is evaluated via annual monitoring by ornithologists of the WWF, and the project is designed to maintain a long-term reserve for these birds.

According to the current inspection of our twelve-hectare nature preserve in September 2017, conducted by independent ecologists from the state of Oberösterreich and from the Steiermark, the presence of various rare species of animal and plant life noted on the EU's 'Red List' has been confirmed.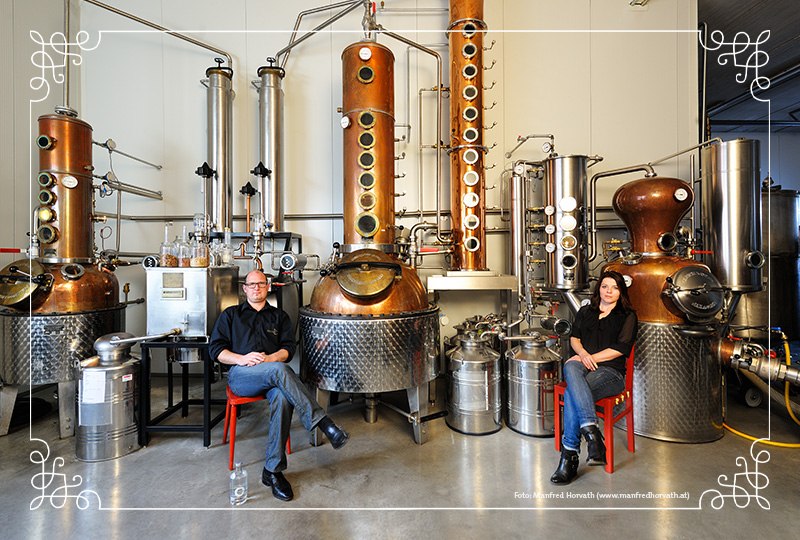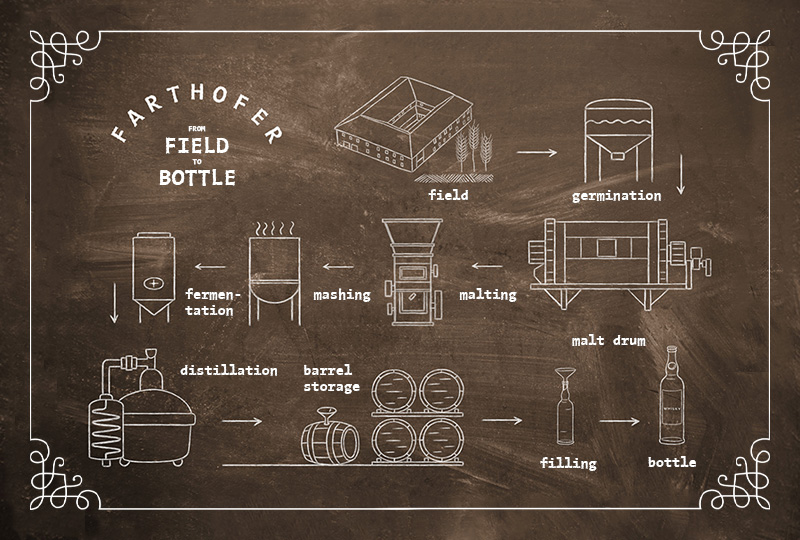 Our Organic Circulation System
But the organic principle doesn't stop with the raw materials. In every other facet of our work, recyclable materials are utilised to the greatest degree possible. One unique aspect is our organic heating with the elephant grass 'miscanthus', planted on our own fields. Exhaust heat is stored in the community energy net and supplies, among other buildings, the school and the kindergarten. Of course we utilise green electricity. A photovoltaic power system was installed on our foursquare farmstead, just a few kilometres distant from the distillery. Incidentally, Josef Farthofer was nominated for the national Climate Protection prize in 2008 for this project.

We operate a closed organic circulation system. The stillage collected from our processed grain and fruit serve as high-quality fertilisers. We add effective microorganisms to our stillage, which increase the benefit of the fertiliser. The fertilisers are applied to our fields, where we cultivate our rare types of grain. Grain stillage and beer lees serve as energy-rich animal feed for organic farmer friends of ours. Pressed fruit residue, known as 'fruit cake' will be further used in the production of liqueurs and fruit-based spirits.
Enjoy our natural and gently produced spirits consciously and with pleasure.
Company Address
Name: Destillerie Farthofer GmbH
Address: Mostviertelplatz 6
ZIP Code: 3362
City: Öhling
Country: Austria
Contact Details
Opening Hours: 10 to 12 am and 1 to 4 pm
Opening Days: Wed to Fri and on request
Telephone: +43 (0) 74 75 / 53 674
Email: office@destillerie-farthofer.at
Website: www.destillerie-farthofer.at
Organic Premium Vodka

40% abv - 700ml

Vodka - Austria

Gluten free, Kosher, Organic

Organic Premium Gin

40% abv - 700ml

Gin London Dry - Austria

Gluten free, Kosher, Organic

Organic Premium Rum

40% abv - 700ml

Rum / Rhum Molasses - Austria

Kosher, Organic

Speckbirne

40% abv - 350ml

Distillate Fruit - Austria

Gluten free, Kosher, Organic

Mostello Vintage 2014

21% abv - 375ml

Fortified Wine - Austria

Gluten free, Kosher, Organic