Company: Villa Zarri

Who am I: Producer
UNIQUE BRANDIES FROM ITALY
Villa Zarri focus on the Brandy production with an unique idea and quality thinking. The company also home-makes, in compliance with a family recipe, organic Nocino (walnut liqueur). The Cherry Brandy and Brandy e Caffè are based on 6-year brandy, the former with brewed cherries added, the latter with brewed coffee added.

Thanks to the high quality which Guido Fini Zarri has been guaranteeing in all these years, in Italy brandy has acquired the fame and success which such a noble and refined distillate deserves. Villa Zarri Brandy is a product which differs from any other Italian distillate, due to its unicity and exclusivity.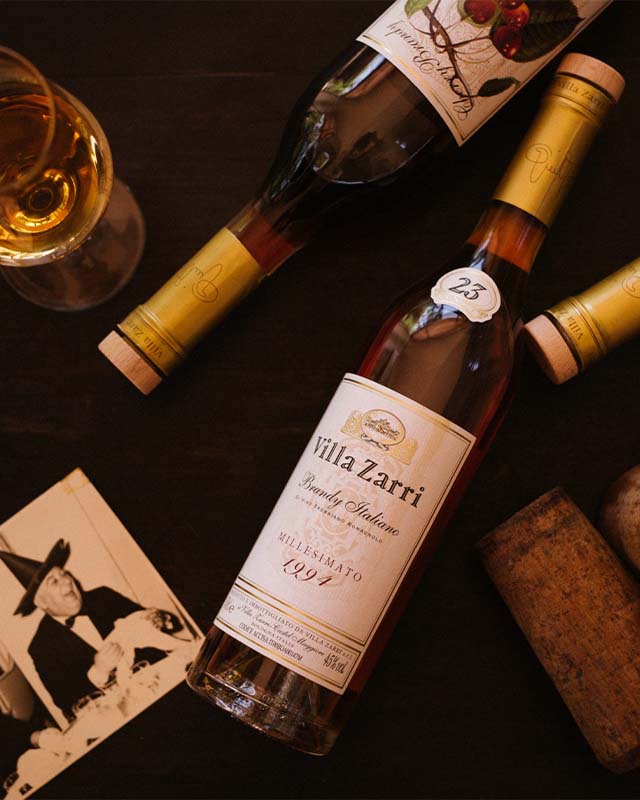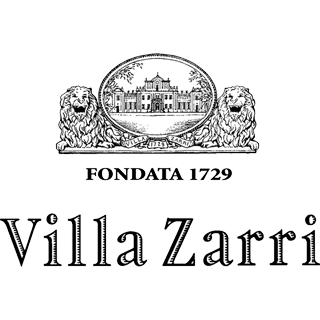 Established
1986
Focus
High quality Brandy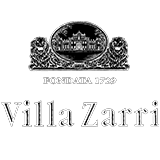 BRANDY FOCUS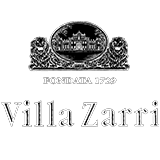 100% NATURALLY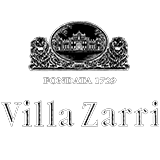 NO AROMA ADDED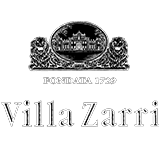 NO COLOURING
THE PRESENT WITH DEEP ROOTS IN THE PAST
The history of Villa Zarry Brandy is connected with that of a famous family from Bologna and starts in 1954, the year when Leonida Zarri bought a company, which produced excellent brandies, liqueurs and an aperitif, Select, which was very trendy at that time.

Villa Zarri, an ancient eighteenth-century Bolognaise dwelling, was bought by Leonida during the Second World War and then used as a summer house for his family.

Young Guido Fini Zarri, who carried on his grandfather and father's business, came
to the conclusion that it was possible to produce a superior class Brandy also in Italy and had been investing time and efforts in the attempt to "pave the way" for this project for some years. Since the harvest of 1986 he has been using a Charentais alembic to brew Trebbiano wine, thus starting a high-quality limited production.

1989 saw the establishment of Villa Zarri and in 1990 Guido Fini Zarri presented the first bottle of Villa Zarri Brandy, a completely natural product deriving from brewing Romagnolo and Tuscan Trebbiano wine by means of a discontinuous method, in compliance with a strict regulation similar to the French Cognac one: the result is a top quality brandy endowed with great style, which fears no comparison.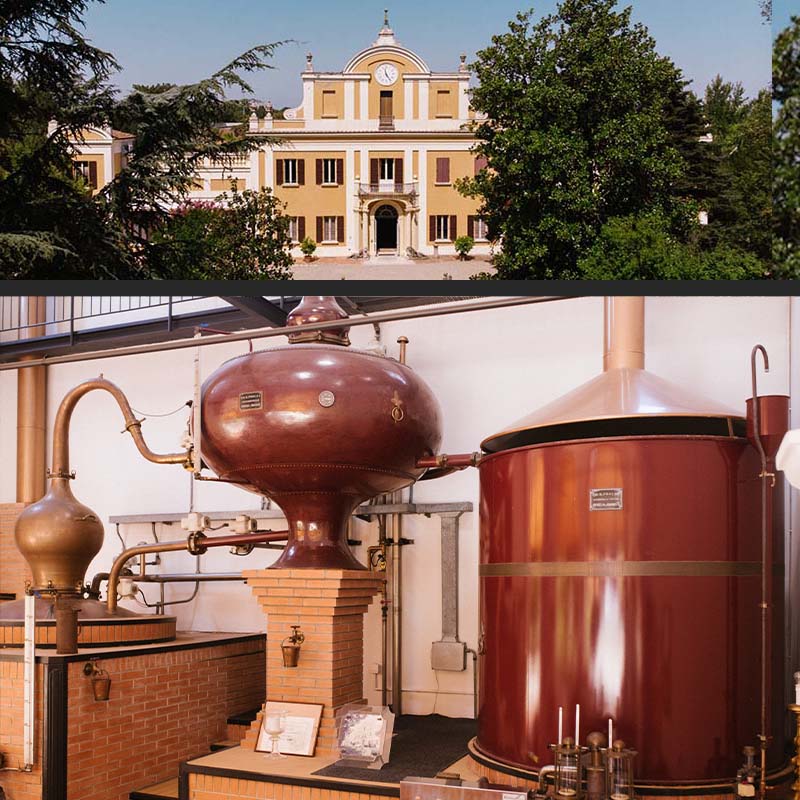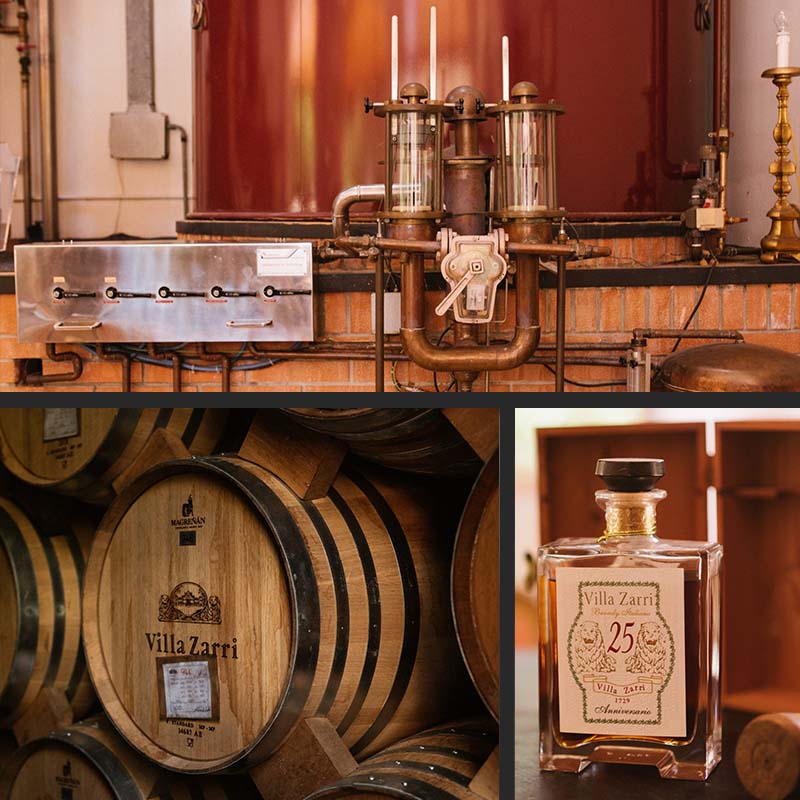 PRODUCTIVE PHILOSOPHY AND METHODS
The Villa Zarri productive philosophy stems from painstaking experiments and precise scientific research, which are derived from the methodology applied to French Cognac.

In order to achieve excellent quality brandy, you need to start from an organoleptically perfect wine; Villa Zarri has chosen Romagnolo and Tuscan Trebbiano. Grapes are pressed with a soft system and the must thus obtained is allowed to settle at a low temperature, so that solid parts deposit on the bottom; then it is transferred into the fermentation container, where selected yeasts are added, without any additives.

At Villa Zarri, distillation takes place in the months of September and October, as
soon as the alcoholic fermentation of the wine has been completed. The method employed is the discontinuous one, carried out by means of a Charentais alembic.

Another very important aspect of ageing is the climate: surrounded in the Romagna microclimate. Our brandy experiences a range of temperatures which enhances its ripening even more. Villa Zarri Brandy thus strikes a balance of taste, scent and alcoholic strength in a totally natural way without adding any aromatizing, preserving or colouring agents.
TOP QUALITY BRANDY ENDOWED WITH GREAT STYLE, WHICH FEARS NO COMPARISON
Company Address
Name: Villa Zarri
Address: Via Ronco 1
ZIP Code: 40013
City: Castel Maggiore
Country: Italy
Contact Details
Opening Hours: After Reservation
Opening Days: After Reservation
Telephone: +39051700604
Email: info@villazarri.com
Website: www.brandyvillazarri.com
BRANDY ASSEMBLAGGIO TRADIZIONALE 10 YO

44.00% abv - 500ml

Brandy - Italy

Villa Zarri 14yo MARSALA BARRIQUE

49% abv - 500ml

Brandy - Italy

Villa Zarri 18 Tabacco Toscano

45% abv - 500ml

Brandy - Italy

Villa Zarri 23yo MILLESIMATO 1994

45% abv - 500ml

Brandy - Italy

VILLA ZARRI 25 YEAR ANNIVERSARY BRANDY

45% abv - 700ml

Brandy - Italy

Villa Zarri 28yo Pieno Grado

56,50% abv - 500ml

Brandy - Italy

Villa Zarri 30 ASSEMBLAGGIO

45% abv - 700ml

Brandy - Italy

Villa Zarri Acquavite di Vino Chardonnay

43% abv - 500ml

Brandy - Italy

Villa Zarri Acquavite di Vino Chardonnay

44% abv - 500ml

Brandy - Italy

Villa Zarri Brandy Caffè

40% abv - 500ml

Liqueur Cream - Italy

Villa Zarri Cherry Brandy

40% abv - 500ml

Liqueur Fruit Liqueur - Italy

Villa Zarri Nocino Liquore

43% abv - 500ml

Liqueur Fruit Liqueur - Italy

DUSK MANHATTAN

40% abv - 500ml

RTD - Italy

DUSK NEGRONI BRANDY

26,70% abv - 500ml

RTD - Italy

Villa Zarri Amaro Zarri

35% abv - 700ml

Amaro - Italy